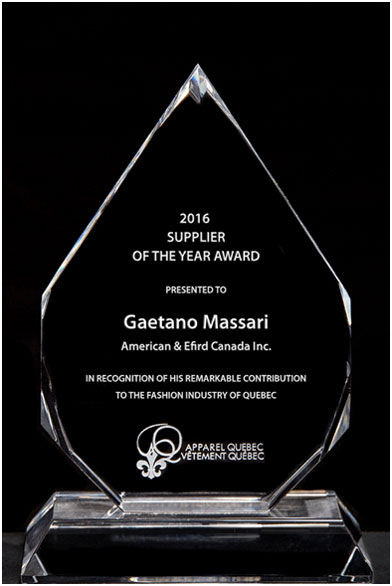 We are pleased and proud to announce that on November 30, 2016, American & Efird Canada, Inc. was presented by Apparel Quebec and recognized by the industry with the "SUPPLIER OF THE YEAR AWARD IN 2016".
We are very excited with the announcement and wanted to share this great moment with all our loyal customers who supported A & E over the years.
You can be assured of A & E's continued dedication to providing you with the highest performing products and remaining the industry leader in service, sustainability and corporate social responsibility.
Please know that all of us at A&E value the business you entrust to our company and appreciate your continued support.
"It's thanks to all our customers that we are recognized as a leader in our industry".

see video: https://youtu.be/B3cz6aLvG0A